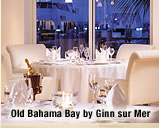 The Bluff House Beach Hotel & Yacht Club - Hotel Information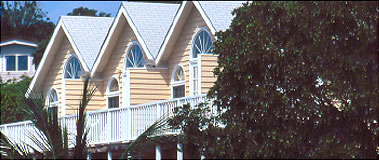 The historic Bluff House Beach Hotel & Yacht Club is situated on 12 acres on the highest point in The Abaco Islands with splendid panoramic views of the Sea of Abaco and White Sound Harbour. This resort offers charming and elegant accommodations with classic British colonial overtones; and the 45-slip marina also gives the resort a quaint nautical appeal. With very little nightlife to be found on the island, tranquility, seclusion, and a feeling of relaxed splendor become the main attractions at this premium resort.
This resort's deserted and delightfully quiet beaches are the perfect place to wander, searching for seashells and shade. Hammocks are slung between palm trees, offering an ideal spot for afternoon naps. Some of the activities offered by the resort include snorkeling, fishing, and tennis. Tuesday nights are special because they feature a weekly performance by the cay's only Junkanoo group. If you're looking for some local history, you will find it only 3 miles from the resort in the quiet village of New Plymouth.
The multi-million dollar 45-slip marina makes the Bluff House Beach Hotel & Yacht Club a great choice for discerning boaters, fishermen, and yachtsmen. The resort offers Texaco fuels and lubricants on-site and has a professionally dredged and marked entrance channel.
The accommodations at the Bluff House Beach Hotel & Yacht Club include Suites, Villas, and Yachtsman's Cottages, all with air-conditioning and either balconies or decks with magnificent views. These accommodations are either beachfront or on the hillside facing the sheltered harbor. The Jolly Roger Bistro, a bar and grill, offers light, casual fare while fine dining can be found in the main Club House. The Jolly Roger Bar has frozen drinks and rum punches to cool you off after a long, lazy day on the beach. Some of the best panoramic views of Green Turtle Cay can be seen from the lounge.
Activities at The Bluff House Beach Hotel & Yacht Club:
LAND
WATER
Boating
Bone Fishing
Deep Sea Fishing
Fishing
Kayaking
Reef Fishing
Sailing
Scuba Diving
Snorkeling