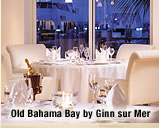 Old Bahama Bay Resort & Yacht Harbour - Island Information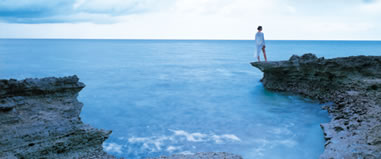 Grand Bahama Island is a natural paradise waiting to be explored. Enchanting fishing villages and captivating marine life can be found along vast beaches that slip into blue-green waters. Many visitors who come to Grand Bahama Island for the sun, sand and water are often delighted to find a variety of other activities to indulge in. Whether you enjoy the nightlife and casinos, taking a nature walk through the National Parks or exploring an underwater cave system - there are so many sites to see, you may need to stay an extra day.
Grand Bahama Island, the fourth largest of the Islands of the Bahamas, has approximately 41,000 residents. The island was originally named "grand bajamar" or "great shallows" by the Spanish for its many flats. Today, it has become one of the most visited of all of the Bahamian islands.
Outdoor activities abound on Grand Bahama Island. Tennis players will have a variety of playing surfaces to choose from with over 40 tennis courts on the island. Golfers can practice their swing on one of the island's four golf courses. Choose to roam the outdoors on a leisurely horseback ride with qualified guides. The ride will follow a trail that leads through a pine forest and along the beach. Experience the magnificent scenery of Grand Bahama Island from horseback as you gallop along the beach.
Visitors can rent a sailboat or motorboat in order to take pleasure in the North Shore's numerous cays, concealed coves, and coral reef dive sites. The crystal clear water makes this the ideal location to learn how to dive. More experienced and adventurous divers can enjoy a century-old shipwreck or even swim with the dolphins in their natural habitat. Grand Bahama Island is also considered one of the premiere fishing destinations in the world. If you're ready for a good fight, then strap yourself in and get ready to hook on to a marlin, sailfish, barracuda, blue or yellow fin tuna.
Grand Bahama Island is filled with many interesting shops, homes and buildings that reflect the influence of its British and African heritage. Tours to the residential and industrial points of interest are available. Nearly 100 stores are found in the International Bazaar, built in the architectural style of the countries they represent. This is a great spot to find that special island souvenir.
Visitors get the chance to enjoy authentic Bahamian cuisine and a unique dining experience on Grand Bahama Island. Roast conch and crawfish are island delicacies found at most local restaurants. Grand Bahama Island has two world-class casinos, updated with the latest technology, including Lotto Slots, Video Poker, and Video Blackjack. There are also many gaming tables, including Craps, Blackjack, Stud Poker, "Caribbean" Stud Poker, Roulette, and Baccarat.
The nightlife on Grand Bahama Island is an exciting part of the island experience. The nightclubs can give travelers a taste of the local sounds with several discos where you can dance the night away. Port Lucaya's open-air Count Basie Square showcases live bands, limbo, fire dancers and local entertainers.