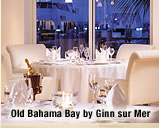 The Bluff House Beach Hotel & Yacht Club - Island Information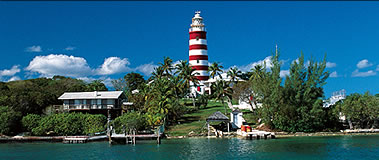 The Abaco Islands consist of a small archipelago in The Islands of The Bahamas chain. The major islands of this archipelago are Great and Little Abaco, with the off-lying cays of Elbow Cay, Man-O-War Cay, Green Turtle Cay, Guana Cay, Stranger's Cay, Umbrella Cay and Walker's Cay completing the string. These islands are a sailing and boating universe. You will find this 120-mile necklace of islands, uninhabited cays and beaches, the ideal setting for privacy and a romantic adventure.

Colonial towns are gems of New England architecture waiting for those who love to roam charming 18th century fishing villages. The Abaco Islands are filled with excellent marinas and boats for hire. Home to the famous red and white striped lighthouse which houses one of only two traffic lights in the islands.

On the eastern end, Ocean Beach has all the bustle and attractions of the true tourist beachfront. You'll find lots to do, and every service will be at your fingertips. Water-skiing, windsurfing, diving, fishing, sailing, seaside restaurants, beach bars, and local entertainment -- if you can think of it, you'll probably find it here.

Nightlife centers on local bars at Marsh Harbour's selection of inns and marinas. Since these are small and quaint islands, you will find that most proprietors share the schedules of local happenings and there is live music and entertainment at different places on different nights. There are numerous restaurants, pubs, and inns located at both Elbow Cay and Green Turtle Cay so you can enjoy a night out on the town.

Dining out in The Abaco Islands is a very romantic and authentic experience. You'll find a tremendous variety of restaurants located in very quite and romantic spots. Fish and pigeon peas as well as Bahamian Conch are local favorites.

Marsh Harbour has a variety of stores for almost every need, including a department store, supermarkets, bakeries, a hardware store, souvenir shops and a small straw market. You'll also find a wide selection of books and magazines in Abaco Treasures, just one of the many shops located along the waterfront on Bay Street.

Today's Bahamians continue the tradition of the early Lucayan and Taino Indians by producing distinctive arts and crafts that reflect the skill and artistry of their heritage. Bahamians utilize local resources to create unique foods, spices, ceramics, crafts, art and music.

For the action and adventure prone, the surfing, diving, snorkeling, and fishing are spectacular. Nature lovers will enjoy the Abaco forest and its natural flora and fauna that are virtually untouched.

With the natural beauty of The Abaco Islands, an evening on the beach with a bottle of champagne and a picnic is a wonderful way to watch the sunset and enjoy a private evening under the moon and stars. The beaches are so spectacular and the water is so invitingly beautiful that you will find that the Abaco Islands' most romantic spots are the beaches. On Great Abaco at Treasure Cay, Ocean Beach rolls out a wide expanse of uninhabited, sugary sand, arcing elegantly around a shallow turquoise bay. To experience more of the isolated stretches of warm, virgin sand under your bare feet, visit Sandy Point on Great Abaco, Tahiti Beach at Elbow Cay and Guana Cay Beach at Great Guana Cay.